AJR Partners With Rip Medical Debt to Help Alleviate Financial Hardships Caused by COVID-19
---
2-WEEK CAMPAIGN NOW LIVE
MORE THAN $20,000 RAISED IN FIRST 24 HOURS, FORGIVING OVER $2 MILLION IN MEDICAL DEBT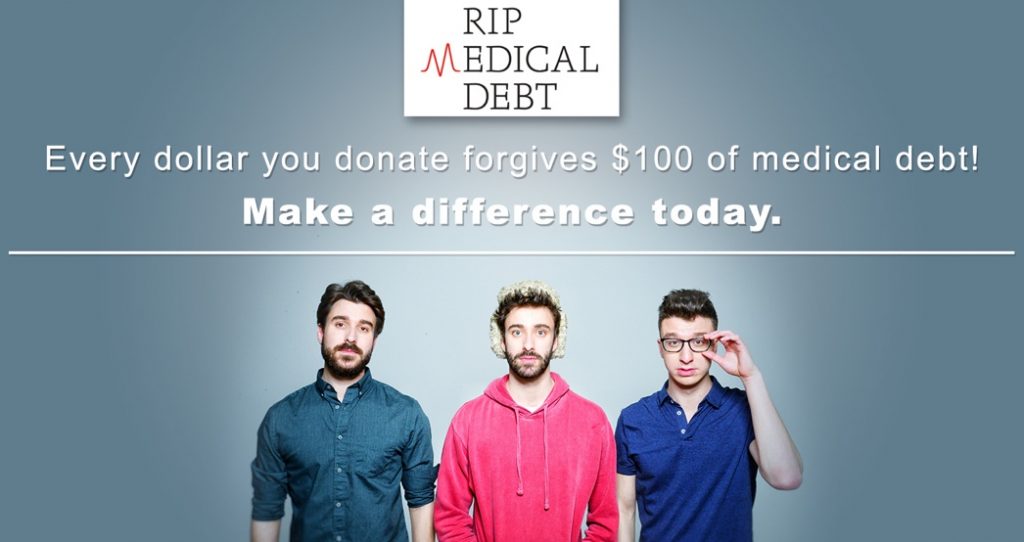 NEW SINGLE "BANG!" NO. 8 ON ALTERNATIVE RADIO AND OVER 35 MILLION TOTAL STREAMS
AJR HIGHLIGHTS PASSION FOR SUSTAINABILITY IN BILLBOARD AND PEOPLE
PERFORMED ON ELVIS DURAN'S "STAY AT HOME BALL" APRIL 24
New York, NY (April 28, 2020) – Multiplatinum indie pop trio AJR have partnered with the nonprofit RIP Medical Debtto help alleviate financial hardships caused by COVID-19. Their two week campaign kicked off yesterday and has raised more than $20,000 in 24 hours, which will forgive over $2 million in medical debt. The campaign is active now through Monday, May 11.
Click HERE to watch a special video message from AJR about the cause.
RIP Medical Debt uses donations to purchase bundled medical debt portfolios that have gone through collection agencies for months or years. Using third-party credit data providers, it targets debt incurred by people facing financial hardship, and then forgives it. Since it buys the most burdensome medical debts in large portfolios, relief is random and RIP Medical Debt cannot seek out and cancel specific, individual medical debts at this time.
On average, $1 is leveraged to abolish $100 in medical debt.
Those who make a minimum donation of $5 to AJR's campaign will receive:
20 percent off any item in AJR's merch store (valid for three months).
A free download of an acoustic studio recording of "BANG!" (not available on DSPs).
A chance to win two free tickets to any AJR show for life.
The campaign comes on the heels of AJR's latest single "BANG!" (AJR Productions/S-Curve Records/BMG), which is No. 8 on Alternative Radio and has accumulated over 35 million total streams. The band performed the track on Elvis Duran's "Stay At Home Ball" last Friday (April 24) and created a viral handwashing tutorial with its chorus (click HERE to watch).
"BANG!" follows the release of AJR's third full-length album Neotheater, which debuted at the top of the Billboard charts last spring (No. 8 on the Billboard 200 and No. 1 on the Alternative and Rock Albums charts), and features Gold certified single "100 Bad Days." In their decade music roundups, Spotify named AJR's smash "Sober Up" one of the Best Rock Songs of the 2010s and Apple Music named AJR's hit "Weak" one of the Best Alt Songs of the 2010s.
FOLLOW AJR:
Website | Facebook | Twitter | Instagram | YouTube
---
Press Contacts
DPR
Carleen Donovan
[email protected]
Amanda Brophy
[email protected]
---