Cook County Medical Debt Relief Initiative Abolishes over $280 Million in Medical Debt for Cook County Residents
(COOK COUNTY, IL) – Today, Cook County Board President Toni Preckwinkle announced Cook County's Medical Debt Relief Initiative (MDRI) has successfully acquired and abolished a total of $281.3 million in medical debt to benefit 158,541 Cook County residents since the program launched in 2022.
"I am proud to announce that Cook County's Medical Debt Relief Initiative has already acquired and erased over $280 million in medical debt for our residents throughout Cook County; and, thanks to a collaboration with the University of Chicago Medicine, this latest round of abolishment will have the largest impact to date," said President Preckwinkle. "We take great pride in what MDRI has achieved thus far, and this work underscores the profound impact of the American Rescue Plan Act, a transformative piece of legislation signed into law by President Joe Biden. As we continue to leverage the funds provided by APRA, we eagerly anticipate providing relief to thousands more of our Cook County residents who have been disproportionately burdened by the weight of medical debt."
The most recent round of debt abolishment was made possible by UChicago Medicine, an academic health system based on Chicago's South Side. Cook County worked with its program administrator RIP Medical Debt, a national non-profit, to purchase medical debt from UChicago Medicine and forgive $173.7 million for 85,060 patients who received care at the University of Chicago Medical Center in Hyde Park, the University of Chicago Physicians Group or UChicago Medicine Ingalls Memorial Hospital in Harvey, IL. On average, each UChicago Medicine patient saw $2,043 in debt relief, with over 75% of patient households reporting annual incomes below $51,000.
"The benefit of debt forgiveness goes far beyond financial relief," said Tom Jackiewicz, President of the UChicago Health System. "We want to give patients peace of mind to ensure they don't delay seeking the important medical care they need to stay healthy. This removes an important psychological barrier, which in turn extends our organization's ongoing health equity work and patient care mission."
The program is funded by $12 million in American Rescue Plan Act (ARPA) dollars. To administer MDRI, Cook County partners with RIP Medical Debt, a national, independent 501(c)(3) charitable organization. Through the partnership, RIP Medical Debt contacts hospitals and health systems serving Cook County and negotiates the sale or donation of portfolios of medical debt. This allows MDRI to cancel debts for Cook County residents who qualify based on financial hardship. Any hospital or physician group that provides hospital-based care is encouraged to participate in the MDRI program and provide qualifying medical debt for abolishment.
"I'm grateful to see the momentum in Cook County continue as we collaborate with UChicago Medicine to abolish millions more of burdensome medical debt for locals," shared RIP president and CEO Allison Sesso. "More providers are lining up to support this initiative and it's a testament to the county's vision that our first partnership with local government is so impactful."
Individuals who qualify for medical debt abolishment through MDRI must live in Cook County, have incomes up to 400 percent of the current Federal Poverty Guidelines (FPG), or have medical debt that is 5% or more of their annual income. Medical debt abolishment cannot be requested by an individual. Eligible patients will have debt erased without taking any action. Recipients are notified by mail that their debts have been relieved, and any negative marks on their credit reports associated with this debt are removed.
Beneficiaries of the program have shared:
"…I suffered from ovarian pains after having a partial hysterectomy. At the time, I was unemployed and fighting my unemployment decision. The ovarian pain was horrible, and I had no choice but to go to the ER. After running tests, they found inflammation that could be resolved with pain medication and rest. I received a bill shortly thereafter that caused me additional stress. I don't like bills, so I make sure to take care of them fairly quickly, but because of my situation, I couldn't even look at the bill let alone figure out how to take care of it. Then, on September 8th, 2023, I received my letter notifying me that my medical debt was PAID! I could not believe it. I am overjoyed. Thank you, Cook County and RIP Medical Debt, for erasing my debt! I cannot thank you enough for what you have done, and I appreciate you more than you will ever know! God bless you!" – Sherry ($12,853 abolished)
"RIP Medical Debt has been a lifesaver for me. I'm grateful now that I don't have to worry about how I will pay this debt. It's so embarrassing when the provider states how much I owe, especially when I don't have the money to cover it. Thank you for saving me from the debt collector. Now I'm able to hold my head up high, because RIP Medical Debt came to my rescue. Thank you so much." – Karen ($4,237 abolished)
"I am both surprised and grateful to RIP Medical Debt for abolishing my medical debt. I have been plagued with medical debt all of my adult life due to a genetic disease. Care has cost me hundreds of thousands of dollars over the years and it will continue. This help removes the depression associated with the obligation to pay and lets me know that there is someone who cares. This is the best gift I've ever received. This organization is truly worthy of all the financial support it receives from kindhearted, selfless, and generous donors. It has made a huge difference in my life and that of others who have benefitted from their benevolence, I'm sure. Thank you so much!" – Patricia ($4,854 abolished)
Medical debt is an escalating issue in the United States and Cook County. Nationally, there are more than 100 million adults grappling with medical debt, amounting to an estimated $195 billion.Furthermore, people of color bear a disproportionate burden of medical debt; nationally, Black adults are 50 percent more likely, and Hispanic adults are 35 percent more likely to carry medical debt compared to their white counterparts.
To learn more about MDRI, go to arpa.cookcountyil.gov/medical-debt-relief-initiative
See below for a list of the top 10 impacted zip codes for all debt abolished to date and associated heat map: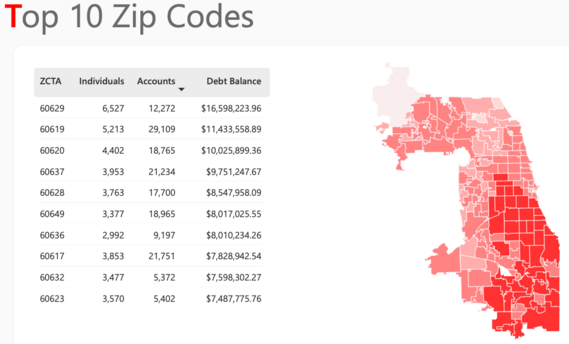 ---