End Medical Debt Wins Benjamin Franklin Book Award
End Medical Debt, a book by the founders of RIP Medical Debt and published by Hoku House, on April 29 received a 2022 Benjamin Franklin Award for Health books. Sponsored by the Independent Book Publishers Association, the annual award, recognizing excellence in writing and design, is regarded as one of the highest national honors for independent publishers.
End Medical Debt was written by Jerry Ashton, Robert Goff and Craig Antico who in 2014 founded the national charity RIP Medical Debt, based in New York. RIP uses donations to buy and erase unpayable medical bills, with no negative tax implications for the recipient. To date, RIP has abolished about $7 billion in medical debt causing hardship for four million disadvantaged Americans.
The authors, former debt collectors and a hospital administrator, present the full historic and current "big picture" for the root causes of our broken U.S. healthcare system. They apply their divergent progressive, moderate and conservative views to examine the major proposed solutions, from healthier diets to universal healthcare. They offer the facts and let readers decide for themselves what we should do as a nation to end the crisis of medical debt in America.
The USA currently has $140 billion in unpaid healthcare bills, reports the New York Times. RIP estimates at least $1 trillion in medical debt have accumulated over the past ten years. These debts generally arise from being uninsured, underinsured, or getting treatment outside the care network, such as surprise bills from the balance due after insurance for an emergency room visit. In most cases, the unaffordable medical expense was unplanned and urgent.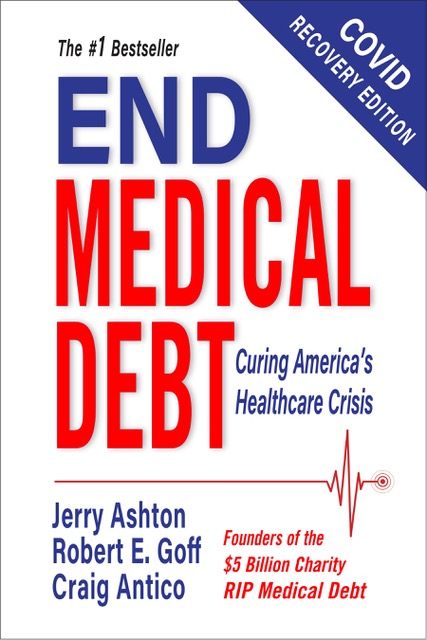 End Medical Debt shows how unpaid healthcare bills, beyond causing stress that harms health, damages credit ratings, which prevents people from buying vehicles, renting or buying homes, and getting jobs that would let them pay off the debt. The book offers practical strategies for individuals and families to avoid medical debt or resolve the debts they do have.
End Medical Debt was edited by seasoned journalist and award-winning author Judah Freed, who owns the indie press, Hoku House, based in Denver, Colorado. The book briefly was a #1 bestseller on Amazon and BN.com after the authors were featured on the PBS NewsHour.
The authors and Hoku House donate 85 percent of all book royalties to RIP Medical Debt. Because the charity acquires old debt for penning on the dollar, each copy sold cancels about $500 in medical debt. End Medical Debt has earned so far enough to abolish about $6 million in burdensome healthcare bills.
The 34th annual Benjamin Franklin Awards, presented at the Renaissance Hotel in Orlando, FL, recognized quality books in more than fifty categories. The awards program was administered by the Independent Book Publishers Association (IBPA). Judging was by about 160 volunteer industry professionals including librarians, bookstore owners, reviewers, designers, publicity managers, and editors. Due to Covid, the 2022 awards ceremony was the first live presentation since 2019.
For more info visit HokuHouse.com
---